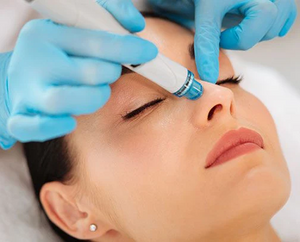 HydraFacial
Regular price $250.00 Sale
Immerse yourself in a unique beauty experience at Predire Paris with our exceptional treatment. Renowned as the top-tier beauty treatment in Markville, HydraFacial goes beyond typical facial therapies, incorporating cleansing, exfoliation, extraction, and hydration all in one comprehensive procedure.
Why HydraFacial?
The HydraFacial has revolutionized the skin treatment for face industry, delivering noticeable and lasting improvements to your skin health. This multi-step treatment targets a range of skin issues, from fine lines to uneven skin tones, for a comprehensive rejuvenation experience.
Advantages:
All-in-One Solution: HydraFacial effectively cleanses, exfoliates, extracts, and hydrates, offering a complete facial therapy in one session.
Instant Results: Enjoy immediate improvements with a visible reduction in fine lines, wrinkles, and hyperpigmentation.
Safe and Comfortable: HydraFacial's gentle approach ensures a relaxing and pain-free experience, making it suitable for all skin types.
When is it prohibited?
While HydraFacial is generally safe, it might not be the best choice for individuals with:
Active rashes, sunburns, or rosacea flare-ups
An allergy to shellfish or aspirin
Recent laser treatments or chemical peels
What you should know before your 1st visit?
Discontinue the use of retinol, glycolic acid, or salicylic acid at least 48 hours prior.
Avoid waxing, tanning, or any exfoliating treatments for at least 3 days before your appointment.
Arrive with a clean face, free from makeup and heavy skincare products.
Embark on a journey towards skin health and beauty at Predire Paris in CF Markville. The HydraFacial treatment provides not just a refreshed look but a revitalized feel. Experience the difference today!