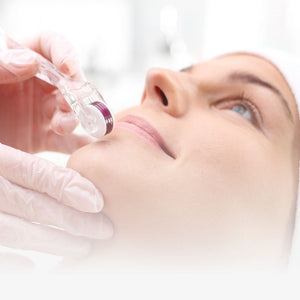 Microneedling Regular
Regular price $200.00 Sale
Experience transformative beauty facial in Markville at Predire Paris. Dive into the rejuvenating world of facial therapy with our signature Microneedling Regular treatment. Designed to revitalize, our microneedling procedure harnesses the power of tiny needles to stimulate the skin's natural repair processes, promoting collagen production and enhancing your skin's overall texture and appearance.
Why Microneedling Regular?
Microneedling stands as a cornerstone in modern skin treatment for face. Its magic lies in its ability to encourage your skin to renew itself, diminishing fine lines, reducing acne scars, and giving you that sought-after glow.
Advantages:
Natural Radiance: By boosting collagen and elastin, microneedling ensures youthful and radiant skin.
Minimally Invasive: Unlike other treatments, it offers significant results without extensive downtime.
Suitable for Various Skin Types: Whether you're battling scars, enlarged pores, or uneven skin tone, microneedling can be tailored to address your specific concerns.
When is it prohibited?
While microneedling is safe for many, it might not be suitable for individuals with:
Active acne outbreaks or cold sores
A history of keloid scarring
Recently sunburned skin or wounds
Certain skin diseases or infections
What you should know before your 1st visit?
Avoid direct sun exposure or tanning 48 hours prior to your treatment.
Discontinue use of retinol or Vitamin A derivatives at least 3 days before the procedure.
Come with a clean face, free from makeup or heavy creams.
Hydrate and ensure you've consulted with our experts to tailor the treatment to your skin's unique needs.
How much time does it take?
Usually procedure takes about 1 hour.
Want to ask something specific?
Feel free to get consultation by number +1 (416)-271-4257