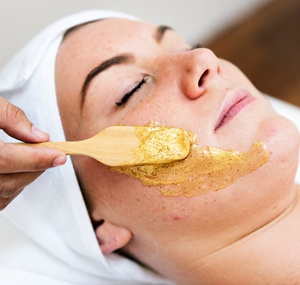 24K Gold Facial
Regular price $800.00 Sale
What is it?
Gold Facial is a rejuvenating skincare treatment that combines opulence with incredible benefits. This indulgent procedure involves the application of a special gold-infused mask to the face, delivering a radiant glow and a host of advantages to the user.
The Gold Facial is designed to nourish and revitalize the skin, leaving it looking and feeling revitalized. The gold particles in the mask have been known to stimulate collagen production, promoting firmness and elasticity. This can help reduce the appearance of fine lines and wrinkles, resulting in a more youthful complexion.
Not only does the Gold Facial provide anti-aging benefits, but it also helps to brighten the skin and even out the skin tone. The gold particles work to improve blood circulation, enhancing the natural radiance of the skin. The treatment can also assist in reducing the appearance of blemishes and hyperpigmentation, leading to a clearer, more even complexion.
In addition to its aesthetic benefits, the Gold Facial provides a pampering experience that promotes relaxation and well-being. The gentle application of the mask and the soothing massage techniques involved can help relieve stress and tension, leaving you feeling refreshed and renewed.
Benefits of 24K Gold Facial: 
24K Gold benefits for all skin types.
It helps the skin's elimination of toxins and combats sun damage.
This patch also reduces tired appearance and brightens up the skin by circulating blood and oxygen.
This Gold patch has strong anti_aging properties. It activates the process of cell renewal and rejuvenates the skin. It also brings about a significant reduction of wrinkles and fine lines and ensures that skin elasticity is maintained to makes your skin look youthful.
This is good for dry and oily skin.
Reduces the appearance of fine lines and wrinkles. Completely hydrating and aids recovery for the skin. Rich in minerals, it restores skin tone, cleanses and detoxifies.
Treatments to hydrate, firm and moisturize the skin, claiming reduced fine lines and wrinkles and resulting in smooth and radiant skin.
Keeps skin firm by maintaining collagen in the skin and inhibiting the breakdown of elastin.
It is good for the following skin types :
Aging skin
Dull skin
Uneven-tone
Sagging