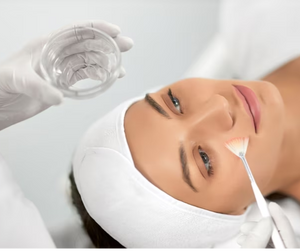 Chemical Peeling
Regular price $350.00 Sale
Discover the beauty revelation of Chemical Peeling at Predire Paris, your ultimate destination for a beauty facial in Markville. Our specialists use premium, carefully curated solutions to gently exfoliate and rejuvenate your skin, offering you an unparalleled facial therapy experience.
Why Chemical Peeling?
Chemical Peeling is a top-notch skin treatment for face designed to accelerate skin regeneration. By precisely removing the damaged outer layers of skin, this treatment reveals a smoother, more youthful complexion beneath.
Advantages:
Radiant Complexion: Get ready to glow! Chemical peeling is excellent for brightening your skin tone and revealing a fresh, radiant complexion.
Smoothes Skin Texture: This treatment helps smooth out fine lines, wrinkles, and skin roughness, giving you soft and touchable skin.
Targets Skin Imperfections: Be it sun damage, acne scars, or hyperpigmentation, chemical peeling is your answer to a flawless complexion.
When is it prohibited?
Chemical peeling is a safe and effective treatment for many. However, it may not be suitable if you have:
An active skin infection or cold sore
Recently undergone skin radiation
Certain types of skin conditions or allergies
What you should know before your 1st visit?
Limit sun exposure and cease usage of retinol or Vitamin A products for at least a week prior to your treatment.
Avoid waxing, bleaching, or hair removal cream on the treatment area 48 hours before your appointment.
Arrive with a clean face, free from makeup and skincare products.
A consultation with our skin specialists will ensure your treatment is tailored perfectly to your skin type and concerns.
Unveil a new level of beauty with Predire Paris at CF Markville. Our Chemical Peeling treatment is your path to brighter, smoother, and healthier-looking skin. Book your session today, and embark on your journey towards unmatched radiance.
How much time does it take?
Usually procedure takes about 30-40 minutes.
Want to ask something specific?
Feel free to get consultation by number +1 (416)-271-4257