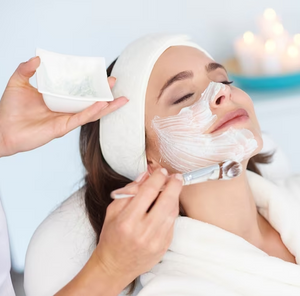 Cold Peeling
Regular price $250.00 Sale
Discover the transformative power of cold peeling at Predire Paris. As the modern world redefines beauty facial treatments, our cold peeling stands out as a paramount choice for those looking for effective facials. If you've been seeking a face facial that offers profound results, here's what you need to know:
WHY COLD PEELING?
Cold peeling offers a refreshing alternative to traditional facials. It's designed to gently remove dead skin cells, stimulate cellular renewal, and reveal a smoother, more radiant complexion. With each session, experience revitalized skin that feels refreshed and renewed.
ADVANTAGES:
Gentle Exfoliation: Unlike harsh treatments, cold peeling offers a gentler approach, suitable even for sensitive skin.
Boosted Radiance: Experience a clearer, brighter complexion with reduced appearance of fine lines and imperfections.
Improved Skin Texture: With regular treatments, witness a noticeable improvement in your skin's texture and elasticity.
WHEN IS IT PROHIBITED?
While cold peeling is suitable for many, those with certain skin conditions, open wounds, or recent skin surgeries should avoid this treatment. Always consult with our expert aestheticians to ensure it's the right choice for you.
WHAT YOU SHOULD KNOW BEFORE YOUR 1ST VISIT:
Preparation: It's advisable to avoid sun exposure or tanning beds for at least 48 hours before your session.
Duration: Typically, a session lasts between 30 to 60 minutes.
Aftercare: Post-treatment, your skin may appear slightly reddened; this is normal and will subside. Apply sunscreen diligently and avoid harsh skin products for a day or two.
Dive into the world of elite skin treatments with our specialized cold peeling. At Predire Paris, we prioritize your skin's health and beauty. Book your session today and uncover a fresher, more vibrant you.
HOW MUCH TIME DOES IT TAKE?
Usually procedure takes about 30-40 minutes.
WANT TO ASK SOMETING SPECIFIFC?
Feel free to get consultation by number +1 (416)-271-4257