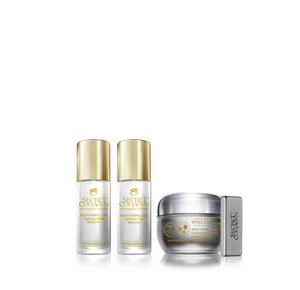 Multi Vitamin E, A & C Collection
Regular price $300.00 $209.99 Sale
A revolution in skin care, Secret Collagen is formulated for a variety of skin types. With the belief that beauty is for everyone, our customized fusion of restoring organic elements and the anti-age fighting ingredients of Retinol and Collagen, is designed to encourage intensive cell rejuvenation, reduce dark spots, help to minimize problematic blackheads, and provide the needed skin care regime that will help to protect and repair your skin from the signs of aging.
Working on a molecular level, Our BIO ORGANIC" COLLAGEN & RETINOL formulas assist the skin cell retinoid receptors that regulate certain skin functions. Improving skin texture and speeding up skin cell rejuvenation, which slows down as we age, Secret Collagen works to combat and assist in repairing damage, leaving your skin healthier and younger looking.
A skin care innovator, not merely by keeping pace, but by surpassing expectations with the synergistically blending of nature and leading anti-aging technological advances in Retinol, Collagen, and certified organic Argan Oil, we are committed to our promise of guaranteeing you the best quality. All products have been formulated and tested by the expertise of leading chemists.
Multi-Vitamin E, A & C Hydration Daily Moisturizer 1.69 fl oz
Replenish your skin with our Multi-Vitamin E, A & C Hydration Daily Moisturizer. A Bio-Organic blend of Retinol and Collagen with other restoring ingredients that helps to heal and rejuvenate your skin.  Providing moisture and replenishment that will last through the day, your skin will feel and look softer and more radiant. Our cream is formulated with Argan Oil, nature's liquid gold from Morocco, and accelerates surface cell regeneration. Rich in antioxidants and vitamins for a softer feeling and younger looking complexion.

•Moisturizes
•Hydrates
•Replenishes
•Softens
•Reduces Wrinkles

Multi-Vitamin E, A & C Night Serum Treatment 1.69 fl oz
Give your body the boost it needs with our Multi-Vitamin Night Serum! Brightening your skin appearance, evening out skin tone and protecting your skin from free radicals. Clinical tests have proven that  Vitamin C & E improve skin elasticity and decreases the appearance of wrinkles, reduces skin redness and helps increase skin firmness. Combined with vitamin A, it improves the appearance of damaged skin caused by UV radiation and promotes healing.

•Moisturizing
•Protects
•Promotes Healing
•Reduces Redness
•Reduces Wrinkles


Multi-Vitamin E, A & C Golden Magnetic Mud Revitalizing Mask 1.69 fl oz
Revitalize your skin with our Golden Magnetic Mud Mask!  Carefully formulated for the regeneration and activation of the skin, providing powerful facial cleansing by removing a thin layer of dry cells to reveal ultra-smooth and youthful skin. With the addition of natural Argan Oil, vitamin E, A & C, this is the ultimate non-abrasive answer.

•Reduces Redness
•Smoothes
•Regenerates
•Cleansing