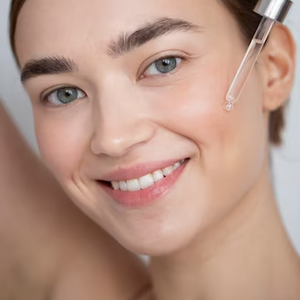 Skin Booster
Regular price $300.00 Sale
Skin Booster Treatment is a cutting-edge aesthetic procedure that involves the administration of micro-injections of hyaluronic acid and other essential vitamins into the skin. This treatment aims to hydrate, rejuvenate, and enhance the skin's texture, giving it a radiant and youthful appearance.
WHY SKIN BOOSTER?
As we age, our skin loses its natural moisture and elasticity. The environment, lifestyle factors, and genetics can further contribute to dryness, fine lines, and a dull complexion. Skin Booster Treatment addresses these issues by directly nourishing the skin, promoting collagen production, and offering deep hydration that regular creams or serums cannot provide.
ADVANTAGES:
Deep Hydration: The hyaluronic acid content hydrates the skin from within, reducing the appearance of fine lines and wrinkles.
Natural Results: It offers a subtle, natural-looking enhancement, making skin appear more youthful without drastic changes.
Long-lasting: Effects can last for several months, depending on individual skin type and maintenance.
Suitable for Various Skin Types: Effective on different skin types, including dry, mature, or sun-damaged skin.
Minimally Invasive: A non-surgical procedure with minimal downtime.
WHEN IS IT PROHIBITED?
Skin Booster Treatment may not be suitable for everyone. It is prohibited for:
Individuals with known allergies to any ingredients used in the treatment.
Pregnant or breastfeeding women.
Those with active skin infections or inflammation at the treatment site.
Patients with autoimmune disorders or compromised immune systems.
Individuals with a history of keloids or hypertrophic scarring.
WHAT YOU SHOULD KNOW BEFORE YOUR 1ST VISIT?
Consultation: A preliminary consultation will help assess your skin's needs and tailor the treatment accordingly.
Avoid Blood Thinners: It's advised to avoid certain medications or supplements that can increase bleeding, like aspirin, for a few days before the treatment.
Skin Condition: Come with clean skin free of makeup and lotions.
Aftercare: Following the treatment, avoid intense physical activity, excessive sun exposure, and sauna visits for at least 24 hours.
Results: While some immediate hydration may be evident, optimum results usually manifest over several days to weeks.
HOW MUCH TIME DOES IT TAKE?
Usually procedure takes about 30-40 minutes.
WANT TO ASK SOMETHING SPECIFIC?
Feel free to get consultation by number +1 (416)-271-4257